Posted by Kid Puzzles on 19th Nov 2014
Unique Gifts for Kids
Let's be honest with one another: finding the perfect gift for the child in your life can be exhausting. You want to find a gift that they will love, but also one they'll play with. No one wants to give the gift that ends up forgotten at the bottom of the toy box, right? You want your gift to be educational, too. You don't want to give the same gift that another partygoer brings. Duplicate gifts can be disappointing to a kindergartener. So, what are you to do? How can you find a unique gift that is educational and will get pulled off the shelf for years to come? Oh, and you would also like your gift to be safe and nontoxic. Take a deep breath and let us help. Ordering a custom name puzzle for your little one is truly the perfect gift.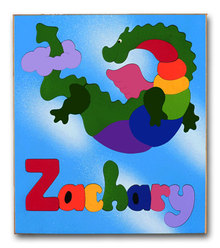 It's Unique
We hand-cut and hand-paint your custom name puzzle. Once you order a name puzzle from us, you won't have to worry about giving a duplicate of your custom gift. Our custom creations are made upon order and each is unique. You have plenty of options to make your name puzzle just right for your child. Choose and tell us the name and your preference for uppercase vs. lowercase letters, and we will get started on customizing a puzzle just for you.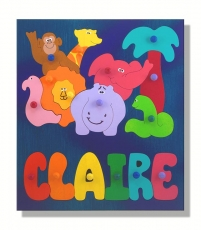 It's Fun and Engaging
Here's the best thing about puzzles—kids love them. Once your custom name puzzle is unwrapped, your little friend, child or grandchild won't be able to put it down. Puzzles are rarely put on a shelf to stay; kids can, and do, play with the same puzzle repeatedly, and love it each and every time. Kid Puzzle designs are made to feature vibrant colors and kid-friendly scenes that are guaranteed to keep your little one working until the last piece is in place. We have been creating puzzles for over three decades and know what children love. With Kid Puzzles, your gift will be a favorite!
It's Educational
Puzzles are some of the best educational toys around. Not only does your child work on problem solving and critical thinking skills, working a puzzle gives him or her the chance to develop attention span and spatial skills. A creation from Kid Puzzles is a brain workout for your little one, and a workout that will be loved.
It's Sturdy and Safe
Finally, you don't want to worry if your puzzle can take the amount of playtime that it will get. Kid Puzzles handcrafts each and every puzzle that comes out of our Oregon shop. Our pieces are durable and built to last for years of playtime. Also, we only use nontoxic and lead-free materials and paints. You can rest assured that the gift you give is safe.
Your unique gift is just a few clicks away. We can't wait to see what you choose!