All-Natural Toys That Are Safe for Your Little Ones
If you are a parent, caregiver, or teacher, it is likely that you are often worried about the safety of the preschoolers in your life. Parenting is hard enough without having to worry if your child is exposed to toxic or dangerous materials in their toys. Save yourself some gray hairs by taking a look at some all-natural toys that are fun and engaging.
Here at Kid Puzzles, we are parents, too. We started this company when our children were small-over 30 years ago. While our children are now grown, we are still committed to making educational and engaging puzzles that are safe for all members of the family. In fact, our wooden name puzzles for toddlers are made to be one of the safest toys in your toy chest.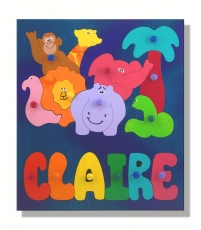 Safe For the Little Ones
It isn't just your child. Every toddler since the beginning of time has the innate need to put everything in their mouths, and choking hazards are serious business.
Our wooden name puzzles for toddlers were created with that oral fixation in mind. Some of our wooden name puzzles for toddlers feature pegged letters and pieces. Not only do the pegs let little hands grasp and foster independence, but if you pick a puzzle that has pegs in every piece, it also eliminates the risk of being a choking hazard. The pegged pieces in our wooden name puzzles for toddlers are a benefit for smaller kids in the family.
Fun For the Big Ones
Besides offering sturdy and permanent pegs on our wooden name puzzles for toddlers, Kid Puzzles is also committed to using only the safest materials in all of our creations. Since we started our company, we knew that we wanted to offer the safest puzzles to families across the country. Because of that promise, we are very careful about the materials we use in our puzzles and paint. We only use nontoxic and lead-free materials in every creation that ships out to your living room.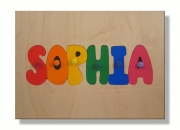 Finding all-natural toys that are fun and educational isn't as hard as you might think. Little kids and big kids alike love puzzles. Our wooden puzzles are designed to grow with children as their abilities and interests change and grow. But one thing remains steadfast and certain: we are committed to the safety of our puzzles and your children.
You don't have to be an expert on child safety or all-natural options to know that Kid Puzzles offers safe and durable toys that are engaging and educational. Everyone in the family benefits from a Kid Puzzle in their home!